Buying a home can seem like a very daunting process — it just may be the most emotionally charged and expensive purchase of your life. But with careful determination and research, the keys to that dream home can be yours. Rest assured that I will be there every step of the way on your path toward homeownership.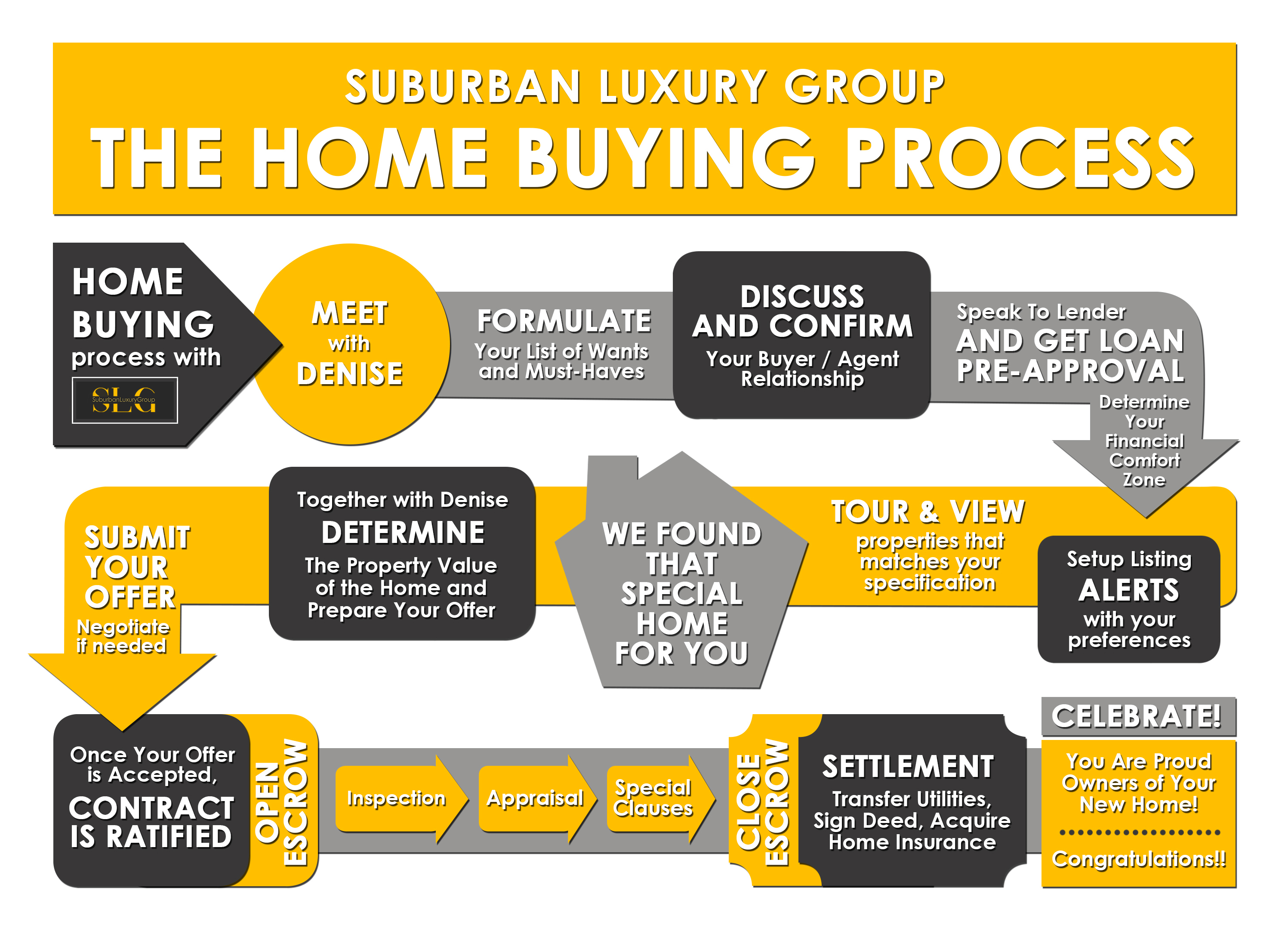 The Internet has become by far the most useful tool for those looking to buy properties and a net-based property search is usually the first step taken by any potential buyer.

Everything always starts from a thought. Before taking the plunge into the buyer pool, there a lot of important considerations whether homeownership is right for you. We will discuss it in another article and let's say you've already decided. Here are the steps:

1. MEET with a Realtor, meet with Denise.

You can find homes for sale on your own for sure, but a good broker/realtor can help you make sound decisions and guide you through the process. Check why working with me makes all the difference. I can help you get access to homes as soon as they hit the market, before they may be listed online.

2. Wants & Must-Haves

A list of wants and must-haves is very crucial in narrowing down the type and location of home that we are looking for. I will guide you on the priorities and essentials in making the most out your targets and goals. This step will provide a clear idea on what to look for.

3. Sign a Buyer Representation Agreement.

Remember: Your agent/broker works for you, I work for you. An agreement keeps you secured and another good thing about a buyer is that commissions are paid by Seller. So even though you may not be paying your agent directly, you can expect that fee to be accounted for in the list price.

4. Speak to Lender / Get Pre-Approved

Depending on your Financing Type (Cash, Conventional, VA loan, etc). A preapproval letter is a written estimate from a lender of how much you will likely be able to borrow from them. This letter will help you determine how much you can afford, and help demonstrate that you can secure a home loan when you are ready to make an offer on a house.

If you're not paying cash, the more you can pay up front toward your home, the less you will have to borrow. A bigger down payment means your monthly payments will be lower and you will pay less interest over the course of your mortgage.

5. Start of Search

Now that you have a better sense of your budget, we will figure out where you want to live. I will take note of your preferences (price bracket, wants, needs) and create a customize listing alert that you receive automatically. Here's a step by step guide on how it works.

It's called RealScout and it's better than any real estate search engine in the industry and exclusive to Suburban Luxury Group. With Real Scout, your searches will not be limited to price, geographic locations and number of bedrooms/baths.

6. Time to Visit

Visit a range of open houses to help narrow your preferences. This will help you get a sense of the housing stock in the area, and what is meant by a dog-trot house or a railroad flat. If there's a crowd at an open house, you may also gain insight from the questions and comments made by other potential buyers.

During your tour:


Open the closets to check the storage space.
Pull back the curtains to consider the view.
Walk through the backyard and consider the maintenance needed to keep it in shape.
Ask a lot of questions: How far is the home from trains and buses? Why do the sellers want to move? When were the last improvements? How much do utilities cost? Have any offers already been made?
Open houses can also be a good way to meet real estate agents with whom you might consider working.
7. We found your special home!
Hoooray! We found your special home! A 2nd or 3rd visit might be necessary to make sure that's the home your want and that's the home worthy of your offer.
8. Prepare Offer
I will be very honest with you and share to you all comments, good or bad, to give you a sound choice. Once you've decided, I will prepare the market analysis that will guide us on the pricing for the offer that we will be sending.
9. Submit Offer
There are occasions that properties get atleast 1 offer and that's the tricky part. It's the seller's discretion on who or what offer to accept.
10. Offer Accepted, Contract is Ratified
A ratified contract will go through escrow and will undergo inspections and contingencies. The most common are Home Inspection, Appraisal & Finance, and Lead Based Paint. I will help you setup utilities, insurance, home warranty and all other necessary add-ons.
11. WELCOME TO YOUR NEW HOME!!!